The Generic Learning Path (see the e-book for 9 theme specific learning paths)
The course this blended COL approach was developed for in the first place consists of two parts: a theory/practice part and a project part. This e-book is most useful for the first part, but also for bridging the first and second part, and a little for supporting the project process in the second part (only for regular and COL students). One generic learning path and nine theme specific learning paths were developed for the first part. All those with broader interest than just one or two application domains are strongly recommended to follow the generic learning path. More can be learned from modeling and simulating rather different cases. Hopefully, new themes will be added in the near future. For a start, future theme 10 may be reached here. No matter what theme is followed, everyone is strongly advised to solve all MCQs and learn from the weekly/daily feedback across all application domains.
WEEK 1: INTRODUCTION TO SYSTEM DYNAMICS MODELING AND SIMULATION (parts I & II)

WEEK 2: SYSTEM DYNAMICS MODEL FORMULATION (part III)

WEEK 3: SYSTEM DYNAMICS MODEL BUILDING & TESTING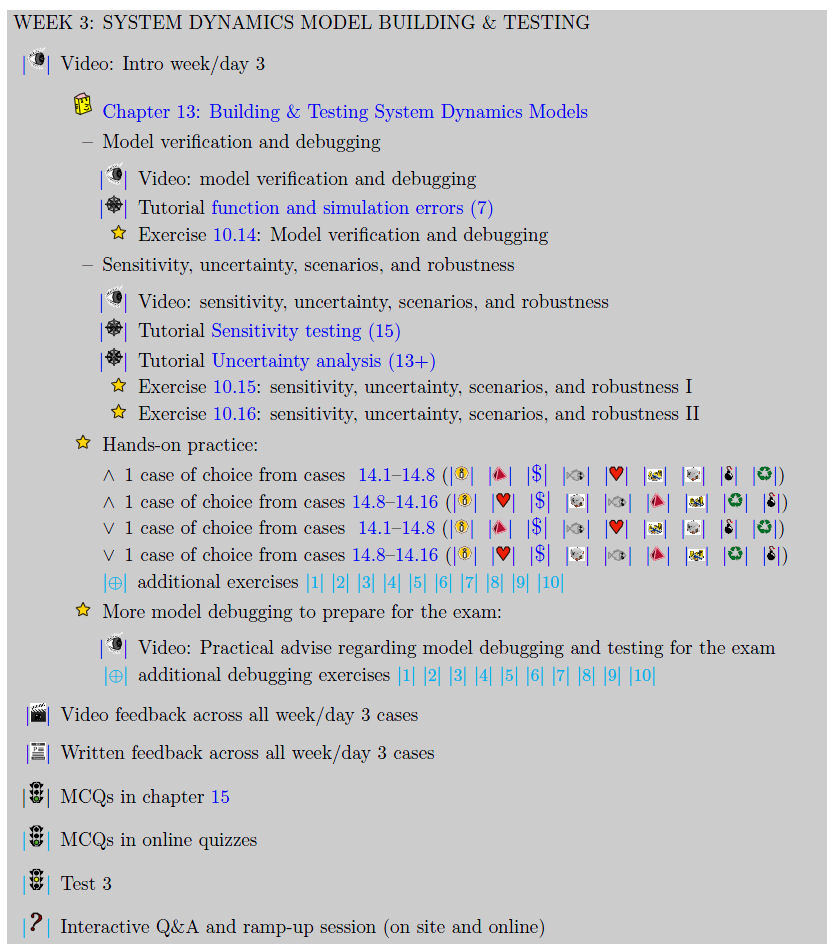 WEEK 4: POLICY ANALYSIS, DESIGN & TESTING & ADVISE

WEEK 5: SYSTEM DYNAMICS MODEL USE AND COMMUNICATION

Nine Thematic Learning Paths
Health Policy, Epidemiology & Drugs (p.17),

Environmental & Ecosystems Management (p.18),

Resource Dynamics & Energy Transitions (p.19),

Safety, Security & Risk (p.20),

Policing & Public Order (p.21),

Housing Policy & Urban Planning (p.22),

Education & Innovation (p.23),

Economics & Finance (p.24),

Management & Organization (p.25).